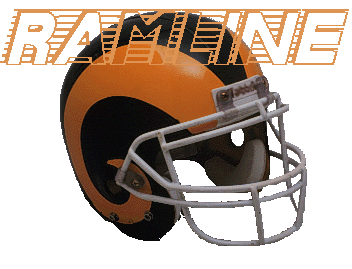 1994 Season Review:
The WAC Championship
---

Sonny Lubick offered a bit of coaching to his players during the Rams' opening-season game at Air Force.

"The players were coming off the field," explained Lubick, "telling me their guy was doing this or doing that."

"I told them: find a way."

Little did he know, but Lubick had unmistakenly set the theme and the tone for the most magical season in Colorado State history by uttering a string of three simple, short words.

"Find a way" summarizes the Rams' 1994 season. It was a year of remarkable moments, a season in which the Rams surpassed all expectations, a season in which Colorado State found a way to win the school's first-ever WAC title.

Air Force - Sept. 3
Colorado State opens the year with a 34-21 win at Air Force behind the rushing of E.J. Watson and a stingy defensive unit. Watson gains 177 yards on 36 carries and scores twice. Defensively, the Rams limit Air Force to just 55 yards in the second half and three first downs.
Quarterback Anthoney Hill is superb, completing 13-20 passes for 243 yards and a touchdown.


Utah State - Sept. 10
The Rams win their second game of 1994 and extend their win streak to five games with a 41-16 victory over Utah State. The game is played before a home-opening record crowd of 28,797 at Hughes Stadium. Leonice Brown leads the Rams' offense with 191 yards on 17 carries including a 69-yard touchdown run the fourth play of the game. Defensively, the Rams allow Utah State only 157 total yards, the third lowest total in school history.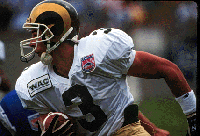 Brigham Young - Sept. 17
One of the most impressive performances in school history takes place Sept. 17 in Provo, Utah. Colorado State defeats nationally-ranked Brigham Young, 28-21, behind the play of an opportunistic offense and a relentless defense which sacks BYU's John Walsh five times.
Colorado State is ranked nationally (25th by USA Today/CNN) for the first time since 1977.

Finding A Way... Safety Greg Myers puts the Rams on the board with a 30-yard inter- ception return for a touchdown that completely changes the com- plexion of the game. Myers is later named the WAC and Sports Illustrated Defensive Player of the Week.

Sonny Says... 'I've been down here (at BYU) with teams, supposedly better personnel-wise and couldn't beat BYU. And this team did everything better than any team I've ever been around. I have never been so proud of a team as I am of this bunch of guys.'
San Diego State - Sept. 24 Colorado State's wining streak stretches to seven games with a 19-17 win over San Diego State. Colorado State parlays a pair of San Diego State turnovers into 10 points, erasing a 10-9 deficit and earning the victory when a 52-yard field goal on the game's final play drifts wide right.
In the national polls the Rams climb to 21 st by USA Today/CNN and 24th by Associated Press. Andre Strode is honored by the WAC.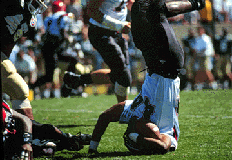 New Mexico - Oct. 1 The Rams win at New Mexico, 38-31, behind the sterling performance of Anthoney Hill who completes 25-35 passes for a career-best 364 yards and three touchdowns. Two of Hill's scoring strikes are directed to Jeremy Burkett.
Colorado State amasses 583 total yards in the game, the second highest figure in school history. Following the game, the Rams are ranked 18th by USA Today/CNN and 23rd by AP. Hill is the third Ram to earn weekly honors from the conference office.

Arizona - Oct. 8 The Rams notch arguably the greatest victory in school history, defeating sixth-ranked and undefeated Arizona, 21-16, in Tucson. Anthoney Hill leads an opportunistic offense by throwing two scoring strikes to Justin Shull. Defensively, the Rams allow but one touchdown.
Colorado State moves to 13th in rankings released by both AP and USA Today/CNN. Sean Moran is honored by the conference office.

Finding A Way... Nursing a 14-6 lead with Arizona threatening to score, Rams' defensive end Sean Moran ensures victory when he scoops up a fumble and returns it a school-record 77 yards for a touchdown.

Sonny Says... 'We proved a lot to the country. This is the greatest win in our university's history.'
UTEP - Oct. 15
Colorado State extends its win streak to 10 games, second most in school history, with a 47-9 rout of UTEP. Colorado State scores early and often - with a safety on the opening kickoff, and 585 total yards.
Defensively, UTEP nets only 139 yards, 23 rushing-the second lowest total offense figure in Rams' football history. Colorado State reaches to 11th in the USA Today/CNN poll, and 12th in the AP rankings.

Utah - Oct. 22
Utah and Colorado State meet in one of the finest matchups in WAC history. The game is filled with landmarks: never have two teams - both undefeated - met at such a late date in the history of the conference. Never before have two ranked teams met on the field of Hughes Stadium.
The game is played before a record-shattering crowd of 39,107 fans at Hughes Stadium plus an ABC-TV audience. Colorado State ties the score at 31 late in the game, eventually losing 45-3.
The Rams are ranked 17th by AP and 18th by USA Today/CNN following the game with Utah. A week later, the Rams are idle, and climb to 11th in the USA Today/CNN poll and 14th in the AP rankings.

Wyoming -Nov. 5
Colorado State erases a 17-point Wyoming lead to beat the Cowboys, 35-24 in the annual Border War series. The Rams score twice within a 51-second span to narrow the gap to 24-21 entering the final period. Anthoney Hill's 28-yard scoring pass to Eric Olsen midway through the final period puts the Rams on top for the first time in the contest.
The game is played before an overflow crowd of 35,514, the third largest attendance figure in school history with live coverage by ESPN.
Colorado State sets a new single-season attendance record vs. Wyoming, surpassing the 160,000 mark with one home date remaining. The Rams move to 1Oth in polls released by USA Today/CNN and Associated Press, the highest ranking in school history.

Finding A Way... Trailing 24-7 late in the third quarter, punter Matt McDougal fakes a a punt and passes to Andre Strode for a 35-yard gain. The Rams go on to score 24 unanswered points and move into first place in the Standings.

Sonny Says... "We needed something to get us going. The game was on the line. if we didn't have something big happen, we were done."
Fresno State - Nov. 19
Greg Myers is named one of six finalists for the Jim Thorpe Award presented annually to the nation's top defensive back.
Colorado State wins its first-ever Westem Athletic Conference foot- ball championship by virtue of a 44-32 win at Fresno State. Trailing 24-3, the Rams storm back to take a 27-24 lead.
Colorado State officially accepts the Holiday Bowl invitation to rep- resent the WAC in the post-season event, opposite Big Ten perennial power Michigan at San Diego Jack Murphy Stadium.

Finding A Way... Colorado State's hopes for the WAC title seem to be evaporating into the chill of the Fresno night until the Rams score the go-ahead touchdown when cornerback Ray Jackson blocks a punt and re- turns the ball 30 yards for a touchdown.

Sonny Says... 'When it was 24-3, I felt it stipping away. At 24-10, I thought 'We have a shot at this.' This is important to the university, the players, the coaches, and the president."
Michigan - Dec. 30 Colorado State's first trip as WAC champion to the Holiday Bowl ends in a 24-14 loss to Michigan before the bowl game's eighth largest crowd ever.
Rams' QB Anthoney Hill is named the games Co-Most Valuable Of- fensive Performer after throwing for 289 yards.
Colorado State finishes the 1994 season ranked 14th by USA Today/ CNN and 16th by AP. It is the first time in school history that the Rains finish the season ranked nationally.
Sonny Says... 'This was a season of dreams. It's been a great year.'
---
Text and photographs courtsey of Colorado State University's Athletic and Media Relations Department.
---
---
Copyright (C) 1995 by World Wide Express, INC., a Nevada Corporation, Ramline ia a publication of World Wide Express, INC. This page and associated pages are Copyright 1995 by World Wide Express, INC. All rights reserved. Special thanks to Colorado State University's office of Athletic and Media relations for their help with this publication.