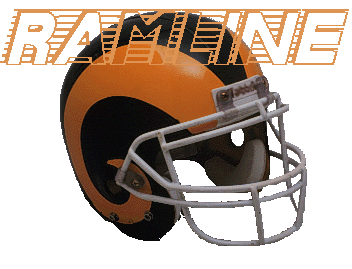 Montana State:
Live Coverage
---
---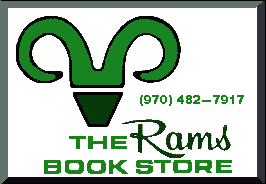 Today's Coverage is brought to you the Rams Bookstore. Call (970) 482-7917 for their Latest gift Catalog
Updated at 11:15 MT Next Update at 1:15 MT
A capacity crowd of 30,000 is expected here on Ag Day today at Hughes Stadium in Fort Collins as the defending Western Athletic Conference champion Colorado State Rams open their 1995 college football season at 1 p.m. with a non-conference game against Montana State of the Big Sky Conference.
The Rams, coming off a 10-2 season - their best season ever - host the Div. 1-AA Bobcats for the first time since the 1990 season, when they throttled the 'Cats by a score of 41-5. CSU went on to a 9-4 record that year that culminated with the school's first-ever bowl victory in the Freedom Bowl.
Excitement is high in Northern Colorado as the Rams, under third-year head coach Sonny Lubick, begin their season. Most Ram fans are looking forward to next week's nationally-televised game (ESPN) at intra-state rival Colorado (7:30 p.m. Mountain Time), but if there's a school that should know not to overlook any opponent, it is Colorado State.
As some of you may remember, it was just three seasons ago - 1992, to be exact - that CSU followed up an opening-game loss at Colorado with a humiliating 37-34 home opener loss to another Big Sky Conference team, Idaho. The Rams led 28-0 just 10 minutes into that game, but the 1-AA powerhouse Vandals featuring six players who would play in the NFL, including quarterback Doug Nussmeier (New Orleans) - refused to die, winning the game on a Mike Hollis field goal with 1 1/2 minutes left (Hollis is now kicking for the expansion Jacksonville Jaguars of the NFL).
| | |
| --- | --- |
| | CSU Marching Band Warms up before Saturday's Game. |
But enough about the past. It's the future that has Ram fans excited for 1995. Thirteen starters return for CSU - seven defensively, four offensively, plus Matt McDougal as both kicker and punter.

Among the seven defensive returnees is preseason All-American free safety Greg Myers, a senior who's trying to become the first four-time All-WAC first team honoree in conference history. The 1994 Jim Thorpe Award nominee - given to the nation's top defensive back - is surrounded by other talented ballhawkers on D, including defensive end Sean Moran, a preseason All-American candidate in some circles, linebacker Garrett Sand, a 195 preseason nominee for the Dick Butkus Award (for the country's top LB) and Ray Jackson, a senior cornerback who led the WAC with six interceptions in '94.

Offensively, the big question in preseason drills has been who will fill Anthoney Hill's shoes at quarterback. Hill, a three-year starter who was a commanding team leader, has moved on to the Edmonton Eskimos of the Canadian Football League.

Two players will have the opportunity to fill Hill's shoes: junior Moses Moreno, Hill's backup in '94, and junior college transfer Daren Wilkinson, who starred for two seasons at Ricks Junior College in Utah. Moreno was named the starter by Lubick, but both QB's will see action.

"We're going to go with Moses to start," Lubick said, "but both he and Daren will get their chances. I feel with the way they both performed in workouts that they both deserve a chance to play. We're comfortable with either Moses or Daren in the game."

Colorado State wasn't in either the Associated Press or the CNN/USA Today preseason Top 25 polls, but the Rams received votes in both polls this week: 31st and 64 votes in CNN/USA Today, 32nd and 74 votes in the AP poll.
| | |
| --- | --- |
| | Ram Football Team Warming Up. |
Montana State, 3-8 in '94 (0-7 in Big Sky), is led by fourth-year head coach Cliff Hysell (14-19 in three years). Hysell, Lubick and Rams running back coach Mick Delaney all worked on the same MSU staff in the 1970's, and both Hysell and Delaney were assistants under Lubick when he headed the MSU program rom 1978-81.

The men to watch for Montana State are quarterback Jeff Tuss, running back Matt Engleking and wide receiver Eric Hopkins.

Tuss, a 25-year old sophomore from Helena, Mont., was a pitcher in the Montreal Expos orgainzation for five seasons. He originally signed out of high school with Washington before joining the Expos, where he peaked at the AA level. He then played at Fresno State last season before transferring to MSU in the offseason.

Engleking is a native of Colorado, where he played at Longmont High School, helping that school to win two state titles in his time. His claim to fame: he has NEVER lost a football game in Colorado, as his teams went a combined 53-0 in junior high and high school.

Hopkins, a senior from Dallas, has caught passes in 17 straight games. He was rated the third-best wide receiver in 1-AA by The Sporting News in their 1995 College Football Yearbook.

Sit back, relax and enjoy following the action of Colorado State football here on the Ramline! Brought to you by Rams Bookstore - the place in Fort Collins for all your CSU memorabilia and school needs!

Updated at 1:15 MT. Kickoff of CSU-MSU.

Kickoff by Montana State to CSU freshman Damon Washington, who returned it 36 yards to midfield. Junior Moses Moreno was at QB for CSU to begin the game.

Updated at 1:05 p.m.MT. Five minutes from kickoff.

Welcome, Internet users to RamLine, the Colorado State University sports internet source!

The 1995 CSU football season is set to begin momentarily here at Hughes Stadium, as the 1994 WAC Champions host Montana State University from the Big Sky Conference. A near-capacity crowd of 30,000 is filing through the gates as the Rams take the field, led by third-year head coach Sonny Lubick.

It's Ag Day here at Hughes Stadium, and the area has been filled with the scent of grilling steaks and hamburgers, the sounds of a live band performing and the joyous attitudes of faithful Ram followers.

The addition of a new $400,000 scoreboard and sound system has stunned and amazed longtime Hughes Stadium denizens, with its graphics and sounds.

Updated at 1:18 MT. 12:00 left, first quarter.

CSU makes first down, but a 10-yard sack drives the Rams back. McDougal punt downed at MSU 11.

Updated at 1:22 MT. 9:15 left, 1st qtr.

MSU gets one first down on its 1st possession, but a 3rd-and-1 run is stuffed by LB Karl Ballard and Garrett Sand. MSU punt travels only 19 yards, 1st-and-10 Rams at CSU 48.

Updated at 1:27 MT. 6:35 left, 1st qtr.

CSU puts its first points of the year up on its new scoreboard, as E.J. Watson goes off right tackle from a yard out. McDougal's PAT gives CSU a 7-0 lead. The drive was six plays, 51 yards.

6:35 1st qtr. CSU 7, MSU 0.
| | |
| --- | --- |
| Free Saftey Greg Myers (from Windsor, Colo.) tackles Matt Engelking (from Longmont, Colo). Myers finished the day with 5 tackles and 2 assists. | |
Updated at 1:40 MT. 3:17 left, first qtr.
CSU's defense dents the scoring column, as safety Steve Standifer picks off MSU QB Jeff Tuss' screen pass attempt and returns it 12 yards for a TD. McDougal's PAT is good.
3:17 1st, first quarter. CSU 14, MSU 0.
Updated at 1:48 MT. End of 1st qtr.
MSU driving, has 2nd-and-9 at the CSU 20 to start 2nd quarter.
END OF FIRST QUARTER: Colorado State 14, Montana State 0.
SCORES:
Air Force 38, BYU 6 4th qtr.
Purdue 26, (23) West Virginia 24, FINAL.
Kansas 9, Cincinatti 3, 2nd qtr.
Northwestern 7, (9) Notre Dame 0, 1st qtr.
Georgia 28, South Carolina 17, 4th qtr.
Updated at 1:51 MT. 14:16 left, 2nd qtr.
MSU drive stalls at CSU 12, then MSU kicker Eric Melone misses a 29-yard field goal attempt.
CSU takes over, 1st-and-10 at CSU 20.
Updated at 1:54 MT.
Moreno erratic throwing, with most passes high and too strong for his receivers. CSU defense solid, scoring one TD and shutting MSU down inside their 20 two times so far.
For CSU, RB E.J. Watson had 7 carries for 37 yards in the 1st quarter. For MSU, QB Tuss effective when he has the time, completing 5 of 8 for 50 yards in 1st quarter. CORRECTION: Standifer's interception return was 14 yards, not 12.
CSU time out, 12:11 left 2nd qtr. CSU 14, MSU 0.
Updated at 2:03 MT.7:00 left, 2nd qtr.
CSU ground game beginning to chew up time and yardage on a smaller MSU defense. Watson getting bulk of carries.
Attendance: 27,068 - the 7th-largest opening day crowd in CSU history.
SCORES: Purdue 26, (23) West Virginia 24 FINAL.
Northwestern 10, (9) Notre Dame 3, 2nd qtr.
(1) Florida State 13, Duke 0, 1st qtr.
Cincinatti 10, Kansas 9, 3rd qtr.
Georgia Tech 51, Furman 7 FINAL.
Georgia 42, South Carolina 23 FINAL.
NO SCORE (ALL 1ST QTR.): (3)Texas A&M-LSU, (13)Michigan-(25)Illinois.
Updated at 2:11 MT. 4:29 left 2nd qtr.
CSU scores as Moreno hooks up with tight end Eli Workman on a 39-yard score. PAT by McDougal good. Drive was 89 yards on 11 plays, chewing up 4:20.
4:29 left, 2nd qtr. CSU 21, MSU 0.
Updated at 2:19 MT. 1:32 left, 2nd qtr.
CSU stops clock with their 2nd time out as MSU prepares to punt on 4th-and-2 at MSU 34. Punt by Melone to CSU 14. Greg Myers returns 19 yards to CSU 33.
Wilkinson in at QB for CSU for 1st time, and his first attempt in the two-minute drill hits Darrell Ballard in the numbers for 17 yards.
Updated at 2:27 MT. HALFTIME.
CSU drive ends at MSU 27 as 4th-and-2 pass to Paul Turner was ruled incomplete. Tuss takes a knee to end the half.
HALFTIME: Colorado State 21, Montana State 0.
Updated at 2:42 MT. HALFTIME.
Halftime at Hughes Stadium, where Colorado State leads Montana State 21-0.
Scores from the CSU University Park Classic volleyball tournament at Moby Arena: Ball State 3, COLORADO STATE 2. George Mason 3, Northern Illinois 2. Oregon 3, Clemson 0. COLORADO STATE 3, Northern Illinois 0. Oregon 3, George Mason 1. Ball State 3, Clemson 0. Clemson 3, Northern Illinois 1.
Records: Ball State 2-0. Oregon 2-0. COLORADO STATE 1-1. George Mason 1-1. Clemson 1-2. Northern Illinois 0-3.
The Classic continues Saturday evening at 5:30, as George Mason faces Ball State and Oregon battles Northern Illinois. CSU takes on Clemson at 7:30. The tournament ends Sunday, as Oregon plays Ball State at 11 a.m. and CSU plays George Mason at 1 p.m.
Updated at 2:53 MT. Start of 2nd half.
The vastly improved CSU marching band kept the Hughes faithful entertained at halftime, and both teams are set for the second half. MSU receives to start the half.
Updated at 3:00 MT. 10:32 left, 3rd qtr.
MSU drive kept alive by CSU pass interference penalty on 4th-and-3 at the CSU 18. Drive culminates on 4th-and-five from the CSU 5, as Jackson breaks up pass intended for Eric Hopkins in the end zone. CSU takes over on its own 20-yard line.
SCORES: Northwestern 10, (9) Notre Dame 9, HALF. Arizona State 14, (22) Washington 3, 2nd qtr. (13) Michigan 7, (25) Illinois 0, 1st qtr. (1) Florida State 27, Duke 7, 2nd qtr.
And at Hughes Stadium: Colorado State 21, Montana State 0, 8:40 left, 3rd qtr.
| | |
| --- | --- |
| | CSU's Kirk Bowman scrambles to recover a fumble. |
Updated at 3:11 MT. 7:48 left, 3rd qtr.
Montana State ends the CSU shutout bid as Melone hits a 32-yard field goal at the 7:48 mark of the 3rd quarter. The MSU "drive" was four plays, 11 yards.
7:48 left, 3rd qtr. Colorado State 21, Montana State 3.
NOTE: E.J. Watson left the game earlier in the third quarter, but he is able to return. Freshman Jaime Blake is in at running back for the Rams.
SCORE: Northwestern 17, (9) Notre Dame 9, 3rd quarter.
Updated at 3:19 MT. 5:17 left, 3rd qtr.
Rams get on board again as McDougal hits from 45 yards out. Drive for CSU was 6 plays, 40 yards and took 2:31 off the clock.
5:17 left, 3rd qtr.: CSU 24, MSU 3.
Updated at 3:25 MT.
SCORES: Northwestern 17, (9) Notre Dame 9, end 3rd. (1) Florida State 48, Duke 10 2nd qtr. (13) Michigan 17, (25) Illinois 0, 3rd qtr. (3) Texas A&M 12, LSU 0, HALF. Arizona State 17, (22) Washington 9, HALF. Kansas 23, Cincinatti 18, FINAL.Stanford 21, San Jose State 3, 2nd qtr. Clemson 55, Western Carolina 9, FINAL. Grambling 19, Alcorn State 10, HALF.
Updated at 3:31 MT. 1:40 left, 3rd qtr.
MSU's Omar Turner picks off a Wilkinson pass on the left sideline intended for Paul Turner and returns it 76 yards for a Bobcat TD. Melone's PAT is good.
1:40 left, 3rd qtr. Colorado State 24, Montana State 10.
Updated at 3:35 MT.End of 3rd qtr.
New CSU punter Preston Loos unleashes a high-hanging 39 yarder returned only 3 yards. MSU takes over at their 15-yard line to start the 4th quarter.
END OF 3RD: Colorado State 24, Montana State 10.
Updated at 3:42 MT.
GAME NOTES: McDougal's 45-yard field goal ties his career long (also hit from 45 vs. Fresno State last year).
IMPRESSIONS: The Rams look a bit complacent, making just enough plays to keep from losing control of this game. Montana State is a game unit, but they are becoming fatigued in the muggy, 80-degree heat this Saturday afternoon.
Neither Moreno nor Wilkinson has impressed with their performances today. Moreno went 5-12 for 102 yards with a TD and an INT, while Wilkinson has gone 3-11 for 36 yards in his time so far (yes, Wilkinson has a TD pass as well, but it was to a Bobcat).
Before leaving, Watson carried 17 times for 100 yards and a TD. For MSU, Engelking carried 14 times for 61 yards.
| | |
| --- | --- |
| | EJ Watson carries the ball on one of his 21 carries for 130 yards Saturday afternoon. |
Updated at 3:55 MT.
SCORES: Northwestern 17, (9) Notre Dame 15, 4th qtr., 5 minutes left. (1) Florida State 54, Duke 12 HALF. (13) Michigan 31, (25) Illinois 0 HALF.
Updated at 4:02 MT. 3:50 left, fourth quarter.
MSU goes to shotgun with 3:50 remaining at their own 19, trailing by two touchdowns. But Ram defense holds the Bobcats in check. Moreno back in at QB when Rams take over with just over 3 minutes left.
3:07 left, 4th qtr.: Colorado State 24, Montana State 10.
Updated at 4:12 MT.17 seconds left.
CSU freshman running back Damon Washington caps the scoring with a 7-yard sweep around right end. McDougal adds the PAT, capping a nine play, 58 yard drive that takes 3:05 off the clock.
:17 left, Colorado State 31, Montana State 10.
Final: Northwestern 17, (9) Notre Dame 15.
Updated at 4:15 MT.
FINAL: COLORADO STATE 31, Montana State 10.
---
---
Copyright (C) 1995 by World Wide Express, INC. Ramline ia a publication of World Wide Express, INC. Special thanks to Colorado State University's office of Athletic and Media relations for their help with this publication.