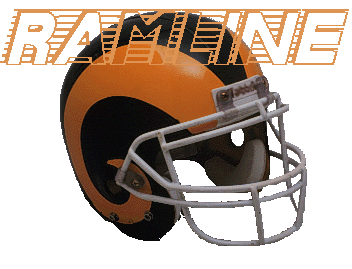 The 1995 Season:
Post Game Wrap Up
---

COLORADO STATE 31, MONTANA STATE 10

by Mike Esquivel, RamLine writer

The thoughts of the Colorado State Rams appeared to be elsewhere Saturday afternoon - like about an hour south of Fort Collins.

Fortunately CSU maintained enough focus on their task at hand on this day to record a 31-10 triumph over a game Montana State, in front of 27,068 fans at Hughes Stadium on Ag Day.

"You guys saw the same game I did out there - a win's a win," CSU head coach Sonny Lubick said. "I'm happy and pleased that we won ... but we were real sluggish out there at times."

The Rams controlled the game from the outset, but were never quite able to achieve a desired level of comfort that many expected to be reached.

Colorado State amassed 357 yards of total offense, including 130 yards on the ground and a touchdown from junior E.J. Watson. Freshmen running backs amon Washington and Jaime Blake saw their first action as Rams, and they combined for an additional 99 yards on 14 carries. Washington closed out the day's scoring with 17 seconds left with a seven yard sweep around the right end for his first collegiate touchdown.

"It was good to see Damon and Jaime in there," Watson said. "They were running hard. I have no problem with that happening every time out."

CSU quarterbacks Moses Moreno and Daren Wilkinson were erratic in their first meaningful action for the Rams.They combined to complete only nine of 27 passes for 141 yards.

Both throwers were intercepted once, with Wilkinson's pick being returned 78 yards by Omar Turner for the Bobcat's lone touchdown, cutting the CSU lead to 24-10 in the third quarter.

Moreno hooked up with tight end Eli Workman for a 39-yard TD pass in the second quarter to spot the Rams to a 21-0 lead.

"I thought both (quarterbacks) threw some good balls out there and had their moments," Lubick said. "We can't make so many mistakes like we did, though."

The key to CSU football as always is defense. Saturday was no exception, as the Rams held MSU to 288 yards of offense, including just 135 yards through the air.

Bobcat QB Jeff Tuss, seeing his first action in a game since his high school career ended in 1987, was 16-for-37 with an interception.

"I thought Jeff played well," MSU head coach Cliff Hysell said. "He took some shots, stood in there well. He'll be alright."

Matt Engleking, who played his high school ball just down Highway 287 at Longmont High School, ran for 108 yards on 20 carries to pace the Bobcat offense.

Despite holding the Bobcats under 300 yards of total offense, Ram defensive end Brady Smith wasn't pleased with the unit's play on the day.

"Satisfied? Not one stinking bit," Smith said. "It felt like we fell to the level of our opponents' play. It actually felt like we were scrimmaging, sort of.

"But I'm glad we got this kind of lethargic play out of our system before next week."

Ah, next week. The game it appeared CSU was thinking about instead of today's contest: at Colorado next Saturday night. The hated in-state rivals who always seem to be hogging the media spotlight away from the Rams.

"We'll look at the films first," Lubick said, "then we'll start thinking about CU when we hit the practice field on Monday."

Colorado opened up its season Saturday night at Wisconsin. Does CSU offensive guard Todd Peterson hope that CU prevailed in their opener?

"No way," the mountainous senior said. "I always like to see them lose!"

Especially next Saturday night.

RamLine services: PRODUCER: Joshua Brauer PHOTOGRAPHER: Shane Iseminger WRITER: Mike Esquivel PRODUCTION ASSISTANT: Justin Bader

To all you net users: see you here next Saturday night, from Folsom Field in Boulder, as the Colorado State Rams travel south to tackle the Colorado Buffaloes. RamLine coverage starts with pregame at 7 p.m. MT. Kickoff is slated for 7:30 p.m.

From Hughes Stadium in Fort Collins, Colo., where the final score was Colorado State 31, Montana State 10, RamLine thanks you for your patronage! Have a great Labor Day!
---
---
Copyright (C) 1995 by World Wide Express, INC., a Nevada Corporation, Ramline ia a publication of World Wide Express, INC. This page and associated pages are Copyright 1995 by World Wide Express, INC. All rights reserved. Special thanks to Colorado State University's office of Athletic and Media relations for their help with this publication.