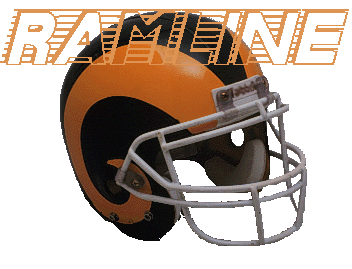 The 1995 Season:
Post Game Wrap Up
---

Welcome to the post-game report from Hughes Stadium, where winds up to 85 MPH made for an interesting Western Athletic Conference showdown between the Colorado State University Rams and Hawaii Rainbow Warriors.

It was only fitting that on CSU Senior Day, the Ram defense - which contains six senior starters - came up big by pitching a 22-0 shutout. It was the first shutout by the Rams (7-3, 5-2 WAC) at Hughes since the stadium was built in 1968.

Senior linebacker Karl Ballard led the Rams with 11 total tackles, end Sean Moran followed with five and free safety Greg Myers added four.

But in comparison, it was the youngsters who really led the Rams' attack. Fullback Jaime Blake started in place of iunjured senior E.J. Watson and rushed for 170 yards on 27 carries. The redshirt freshman accounted for all of CSU's touchdowns with three on the ground. In a bit of irony, the last CSU running back to rush for over 100 yards in his first ever start was ... you guessed it, Watson (Oct. 1993).Can you say WAC Offensive Player of the Week?

Fellow redshirt freshman Damon Washington added 110 rushing yards. This was the second time this season the Rams have had two players rush for over 100 yards in the same game.

The Rams rolled up 423 yards of total offense, 319 of them coming on the ground. Ram Quarterback Moses Moreno completed 14 of 20 passes for 104 yards in his first complete game at CSU.

For the thirs straight week, he Rams were firing on all cylinders, with the exception of the kicking game. Punter/kicker Matt McDougal missed three field goals and one field goal snap was too much for senior holder Erich Prahl to handle. McDougal was greeted with a chorus of boos every time the Rams faced a field goal situation, and the Rams even went for two points, rather than the PAT, after scoring their third TD of the game. But in McDougal's defense, the wind did make it just a little difficult to kick the ball. Hawaii punter Chad Shrout went to drop kick the ball during one series only to have the wind force the it back into his chest.

Hawaii QB's Johnny Macon and Glen Freitas combined for five of 14 passing for 20 total yards. Macon was the reigning WAC Offensive Player of the Week after throwing for four touchdowns last week against Fresno State.

The Rams will have the week off to prepare for the regular-season finale against San Diego State University at Jack Murphy Stadium on Nov. 25. Following today's win, they remain in contention for a bowl bid. The SDSU game could determine which bowl they get invited to, or if they get invited to a bowl at all.

The regular-season finale will kick of at 4 p.m. MST. Be sure to catch all the action on RamLine.

Once again, the final score from a windy Hughes Stadium: CSU 22, Hawaii 0. Thanks for joining us today, we'll see you in two weeks for the Rams' final 1995 regular-season game.
---
---
Copyright (C) 1995 by World Wide Express, INC. Ramline ia a publication of World Wide Express, INC. This page and associated pages are Copyright 1995 by World Wide Express, INC. All rights reserved. Special thanks to Colorado State University's office of Athletic and Media relations for their help with this publication.