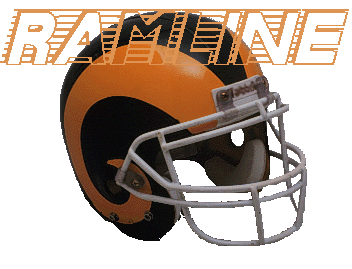 The 1995 Season:
Post Game Wrap Up
---

CU 42, CSU 14

by Joshua Brauer, RamLine producer

Colorado State University falls to 1-0 with a loss to 10th ranked University of Colorado in Boulder Saturday night.

The Rams attempted more than 40 passes in the losing effort. The Buff defense started strong turning the Rams kickoff reception into a 3 and out series. In the first seven and a half minutes the Rams allowed 21 points in two consecutive Buff drives followed by a fumble that rolled into the Ram's end zone before being covered by CU's Daryl Price. A fumbled punt run in for a touchdown finished Colorado's run.

Ram Quarterback Darren Wilkinson proved himself in his first start wearing green and gold. The 24-year-old transfer from Ricks College threw the ball more than 40 times. Although Wilkinson went 15-40 several very good catches were dropped by Ram recievers leading to the less than 50% average. Wilkinson seems to be the leader in the race for the Ram's starting job, edging out Junior Moses Moreno. Moreno, however, was also very impressive coming in during the 4th and engineering a 102 yard scoring drive.

Senior Ram linebacker Garrett Sand left the game with a sprained right shoulder. The 1994 honorable mention All-WAC middle line backer is listed asquestionable for next week's game.

Kicking problems plagued the Rams in Saturday night's loss. Although Matt McDougal and the punting unit did a good job of leaving the Buffs in poor field position, three McDougal fielg goal attempts were wide, and only one of them came close to the uprights.

Next week the Rams travel to Colorado Springs to face the Air Force Falcons (2-0).

RamLine services: PRODUCER: Joshua Brauer WRITER: Mike Esquivel

To all you net users: see you here next Saturday, from Falcon Stadium in Colorado Springs, as the Colorado State Rams travel south to tackle the Air Force Falcons. RamLine coverage starts with pregame at 1 p.m. MT. Kickoff is slated for 1:30 p.m.
---
---
Copyright (C) 1995 by World Wide Express, INC., a Nevada Corporation, Ramline ia a publication of World Wide Express, INC. This page and associated pages are Copyright 1995 by World Wide Express, INC. All rights reserved. Special thanks to Colorado State University's office of Athletic and Media relations for their help with this publication.