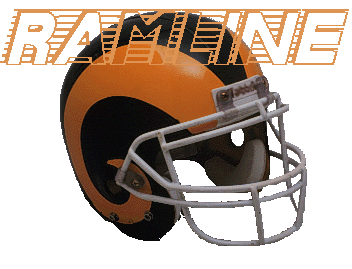 The 1995 Season:
Pre-Game Notes
Last Update: 5:00PM MT August 29, 1995
---

Making Calls Sonny Lubick announced Wednesday that Sophmore Moses Moreno will be the starting QB in Saturday's Game. Moreno was chosen over Daren Wilkinson because of his two more years expierence with the Rams.

Expected Attendance Athletic department officials expect a near capacity crowd for the opener. The largest home-opening day crowd in school history is 28,979 last year vs. Utah State.

On Openers Colorado State opens at home for the second time in the three years during the Sonny Lubick era. In 1994 Colorado State opened with a 34-21 win at Air Force. Colorado State is 45-47-2 all-time in season-opening games, 1-1 under Coach Lubick, and 8-19 in Hughes Stadium season-openers.

AG Day will be celebrated at the game. This is the 11th annual Ag Day. Special events will include a pregame Barbecue and agricultural exhibits.

Tickets May be harder to find by game time. Season Ticket sales are at an all time high with more than 7,000 sold going into 1995. Students must now get tickets prior to the game and general admission seats will be limited to 10,000 Students without tickets will not be admitted. Call 1-800-491-RAMS or (970) 491-RAMS for more information.

Injury Report Terrence Zeno (H-Back) will be out for the season with an injury to his right knee. Zeno will undergo surgery on Friday Sept. 1. On the up side, Zeno played as a true freshman so he will preserve this year's elgilbility by red shirting. Mike Newell (OL) is sitting out practice Monday but is expected to play this weekend.

Tailgating New policies in place this year affect tailgaiting. Please be sure to pick up copies of the new regulations from Campus Police or look for articles in the Rocky Mountain Collegian.

Coming Back The Rams have 13 starters and 36 varsity lettermen returning to the team this year. Seven Defensive starters are led by first-team All-American Greg Myers who is also a three time All-WAC. Also included in the returning players are Sean Moran and E.J Watson.

New Beginings For the first time since 1992 the Rams will have a first-time starting quarterback on Sept. 2.

Meeting Again The Ram's head coach Sonny Lubick (36-27) will meet the school he coached to a 21-19 record from 1978 to 1981. His .625 winning percentage is the highest of any coach in the Ram's history. MSU head coach Cliff Hysell said of the meeting: "It will be nice to see old friends like Sonny and Mick (Delaney)" ... "but at this point I'm a lot more worried about Colorado State's football team than anyone on their coaching staff."

Staying Focused Coach Lubick said at his weekly press confrence Monday that the the Rams are focused on Saturday's game and are not looking past Montana State even with next week's game against in-state rival CU.

Don't Party Yet At least not if you are a football player in the NCAA. 1995 rule changes include stricter rules on unsportsmanlike conduct and celebration on the field.

Kicking Up a Storm Coach Lubick said Monday that Matt McDougal is punting better than ever before. Although the kicking duties will likely be shared, McDougal will get the nod first. That is "if we have to punt," Lubick said.

In Stripes Saturday's officials include: R Ken Flaherty, U Garth DeFelice, L George Gausman, LJ Gary Crum, FJ Charles Caraway, SJ Bill Wilson, BJ Terry Leyden.
---
---
Copyright (C) 1995 by World Wide Express, INC. Ramline ia a publication of World Wide Express, INC. All rights reserved. Special thanks to Colorado State University's office of Athletic and Media relations for their help with this publication.