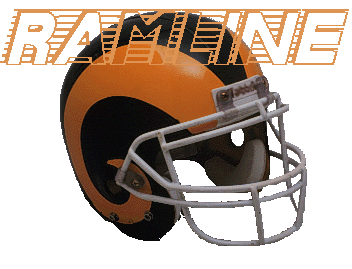 The 1995 Season:
Pre-Game Notes
Last Update: 2:00PM MT September 4, 1995
---

Still Split Discounting complaints in the Denver Post by Ram QB Moses Moreno about the two QB system, Sonny Lubick said Monday that both QB's will play in Saturday's game and that a decision on who will be the Ram's '95 back will come after looking at this week's performances.

Shutting Down CSU limited Montana State to 288 yards of total offense Saturday The rams are 5-1 when they limit their oponents to less than 300 yards

Myers Honored All-American Ram free saftey Greg Myers was one of four Scholar Athletes honored Saturday for his performance on and off the field. Myers a Senior and one of only three players in WAC history to be named a three time all-WAC performer maintains a 3.70 GPA in pre-med. Myers who does not rule out time in the NFL says his main goal is to become a surgeon. Burger King will give $25,000 in Myer's name to the general scholarship fund of Colorado State University.

Kicking Away Matt McDougal tied his career best 45 yard kick in Saturday's game. McDougal also kicked a 45 yard field goal in last year's come-from-behind-win at Fresno State.

Injury Report Mike Newell (OG) did not play last week but is probable for Saturday's game against the Buffs.

Hitting the Road The Rams play the first of six road games on Saturday. Last year they were 5-0 on the road.

California Kids The Rams three leading rushers in last week's outing all come from the San Diego area. In fact 37 Rams and 22 Buffs are from the western state.

Next Week Next week the Rams travel to face another in-state rival. The Rams will attempt to clip the wings and shut down the Air Force's wishbone offense.
---
---
Copyright (C) 1995 by World Wide Express, INC. Ramline ia a publication of World Wide Express, INC. All rights reserved. Special thanks to Colorado State University's office of Athletic and Media relations for their help with this publication.