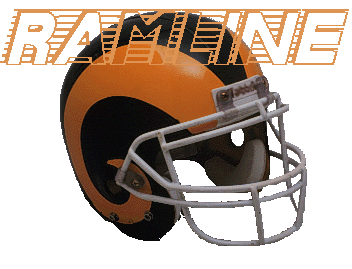 The 1995 Season:
Pre-Game Notes
Last Update: 6:00 PM MT October 2, 1995
---

This Week Following a loss to BYU the Rams travel to face Utah State. It is a game that Coach Lubick said is winnable for the Rams if they play up to their ability. He does not however look down on the Aggie's 0-4 record. "They have had some close games against good teams," Lubick said Monday.

Double Digits For the second straight game linebacker Karl Ballard reached the double digits in the tackle column. Ballard made 20 tackles Saturday and made 23 hits against Air Force. Ballard's performace at Air Force earned him the WAC defensicve player of the week title.

Leading Lubick Coach Lubick's current record, a .630 wining percentage, leads the all time list of coaches in school history. Lubick enters Saturday's game 1-0 against Utah State.

On the Air Saturday's game will be carried live on the Colorado State Sports Netowrk. 600 KIIX is the falgship station in Fort Collins.

The Watson 100 The Rams are a perfect 7-0 when Fullback EJ Watson carries for more than 100 yards in a game.

Beehive StateSaturday's game is the second in a three game series for the Rams against teams from Utah.

Injury UpdateDT Kirk Bowman, injured last week in practice, will miss the remainder of the season because of a torn ACL. Bowman will undergo surgery this week. Ray Jackson (right shoulder sprain) is listed as probable, as is Karl Ballard (left hamstring pull).

Next week... The Rams travel to Utah to face Utah Univeristy in WAC action on Oct. 14 at 12:00p.m.
---
---
Copyright (C) 1995 by World Wide Express, INC. Ramline ia a publication of World Wide Express, INC. All rights reserved. Special thanks to Colorado State University's office of Athletic and Media relations for their help with this publication.